Discover BradyJet J4000 Colour Label Printer
Create a safer, more efficient workplace with compliant, photo-quality full-colour labels, signs and procedures that last. Balance the complexity of safety and compliance labels with the demands of an industrial environment while reducing your safety signage inventory and material waste. Discover BradyJet J4000 Colour Label Printer!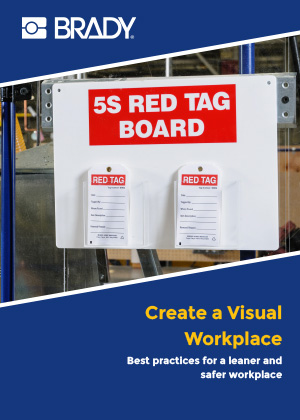 Features & Benefits:
Create compliant labels and signs: Trust your regulatory labelling offers the colours needed for ISO, CLP/GHS, ANSI, BS5609 and arc flash
Extend label performance: Rely on specially formulated materials and ink designed to stand up to harsh environments
Maximise impact, improve efficiency and reduce waste: Stock and print only what you need, when you need it, in photo-quality full-colour every time
Watch the printer in action & book the demo >>
Best practices for a leaner and safer workplace
Visual Workplace is a lean concept that's all about putting important information right where employees need to see it. This concept plays a critical role in some of the most popular lean tools, including 5S. That's because it creates a sustaining base for lean improvements to remain clearly visible, readily understood and consistently adhered to.